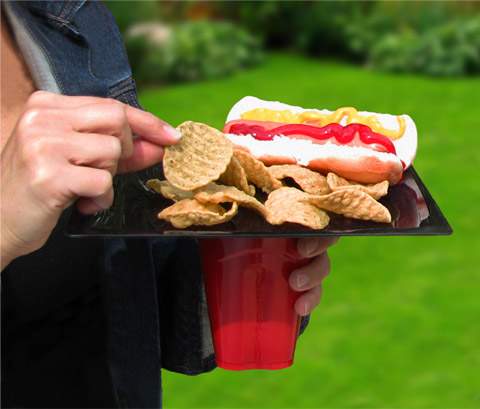 The Drink Holder Plate
Finally, a plastic plate with a cup holder. It couldn't be any simpler. Your food sits on your plate and your plate firmly locks onto your cup. When you hold your drink — you hold the plate. It's that easy.
Holding the cup and plate together in the same hand changes everything.
For the first time you can:
Eat without putting your cup down
Drink without putting your plate down
High-five, handshake, and fist-bump with your free hand
And you can even use your phone — all without putting your drink or plate down.
And it Couldn't be Easier
Drinking from your cup is simple. Your cup easily slides in and out from the cup holder on the bottom of the plate. It smoothly slides and then locks into place, and it smoothly slides back out. Simple.
The Only Plate with a Real Drink Holder
The Party Goer Plate is the first plate with a drink holder that fits a 16oz beverage cup. Disposable 16oz party cups firmly lock onto the bottom of the plate, allowing you to hold the cup and plate together in the same hand at the same time, without any balancing acts.
For serious BBQs, tailgate parties and events, 16oz cups are a must. And only the Party Goer Plate can handle them.
No Spills, No Problems
Spills, Party Fouls, and stains are a thing of the past. No worrying about spills because the plate acts as a natural lid for the cup. Slide a Party Goer Plate onto the top of your cup and your drink won't leak.
Party Cleanup is a Cinch
When it's time to cleanup, there's no worries. The Party Goer Plate is made from recyclable material and it's dish-washer safe. You can reuse it or dispose of it all without any hassle.
Ready for Anything
With a 16oz cup locked onto the bottom, food on your plate, and one hand free and ready for anything, parties will never be the same again.